Deccan Chronicle Newspaper Advertisement Details
No.1 English daily of S.India

Circulation 1.45m
75 years of Trust
No.4 English daily of India
No.1 English daily of S.India

Circulation 1.45m
75 years of Trust
No.4 English daily of India
---
SECTIONS
---
Category :
Main Newspaper
Publishing Day :
All Days
The Deccan Chronicle is an English language newspaper simultaneously published in Andhra Pradesh & Tamil Nadu. The Deccan Chronicle is Hyderabad's largest circulated daily. In terms of readership, it is India's fourth largest English language newspaper in India. Book Classifieds in Deccan Chronicle to advertise in Andhra Pradesh and Tamil Nadu.
Category :
Classifieds Supplement
Publishing Day :
All Days
Deccan Chronicle Classified Ads is cost effective and ideal platform to advertise on for Matrimonial,Property,Obituary, Recruitment, Education,etc type customers. Ad cost is calculated based on the number of lines used.
---
Category :
Appointment
Publishing Day :
Thusday
A valuable guide for students & job seekers to walk in the right career path. So be their guiding star and open new avenues for job seekers! Advertise your companies, schools, colleges, institutes and even organisations with the Career Chronicle, a weekly Education and Appointment pullout by Deccan Chronicle!
---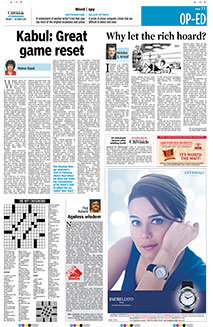 Category :
Others
Publishing Day :
All Days
---
Category :
Obituary
Publishing Day :
All Days
Publish remembrances and dedications for your loved ones who have passed away or send out messages for the ones close to your heart with the Obituary and Personal Messages pullout by Deccan Chronicles!!
---
Category :
Election Or Political
Publishing Day :
All Days
Be an advocate of awareness for people and promote yourself with virtue and motive! Advertise yourself in the Election and Political pull out by Deccan Chronicle!
---
Category :
Public Notice And Tenders
Publishing Day :
All Days
A pullout for publishing ads related to Public Notices and quoting Business Tenders in the southern Part of India. Advertise with Deccan Chronicle one of the largest selling dailies of South India.
---
Category :
Financial
Publishing Day :
All Days
---
Why advertise in Deccan Chronicle Display ?
WHY ADVERTISE?
---
Welcome to the Authorised Online Display Newspaper Ads Booking Service for Deccan Chronicle. You can book ads under the Matrimonial, Property, Recruitment and Obituary sections at discounted prices. Instantly!
• Deccan Chronicle is among the best newspapers of India
• It is also among the most read newspapers in the country, specific to its region of ciruclation
• The reasonable cost of booking ads makes Deccan Chronicle the first choice for many advertisers in India
Deccan Chronicle enables you to publish Display ads under various categories or sections. These categories may be chosen as per your requirement ranging from Announcements and Education to Public Notice and Tender ads.
Deccan Chronicle also provides economical discount and combo packages while booking advertisements through the authorised online newspaper ads booking agent-ReleaseMyAd.
Now with ReleaseMyAd at your service you can book your ad online in just 3 Simple Steps - Select the Newspaper, Compose your Ad, and Confirm the Dates along with the Payment and confirm their release instantly!!!
Authorized Advertising systems of all major newspapers have been incorporated in our services to ensure consistency in flow & availability of dates. All payments made against your ads on the site are handled securely through SSL encryption for maximum protection.
Deccan Chronicle Display Ad Booking Process
BOOKING PROCESS
---